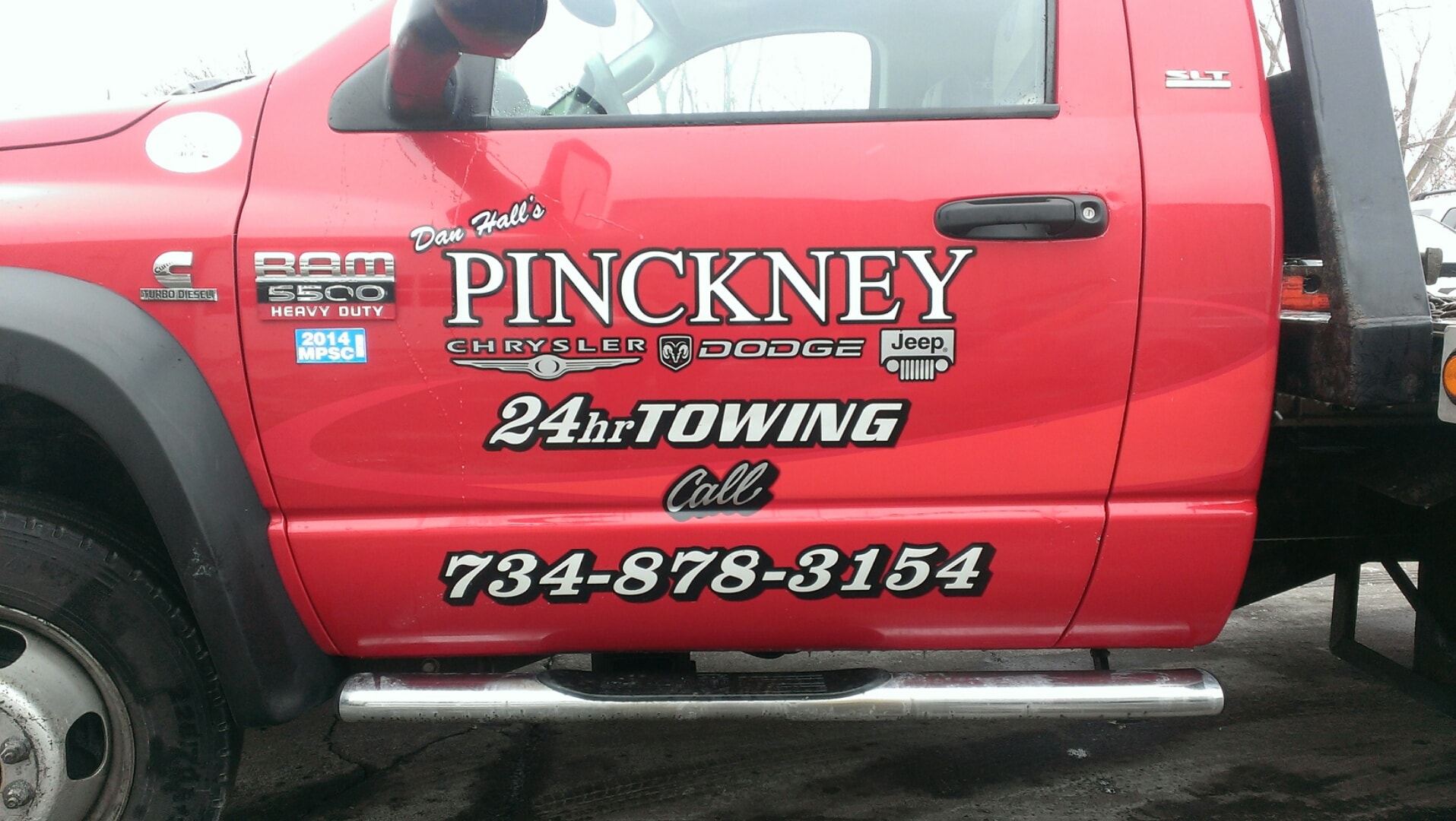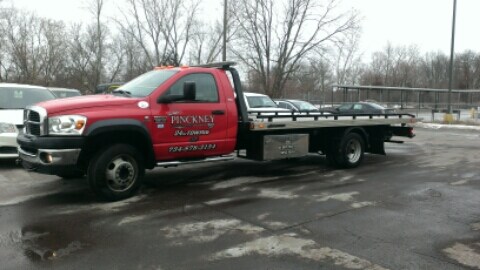 Along with all of the services we already offer in our 
Chrysler, Dodge, Jeep, and RAM service center
, we are pleased to announce that we have extended our services to include 24-hour towing! You can trust that 
Pinckney Chrysler Dodge Jeep RAM
 will be there for you when you're stuck. When it's time for a new car, be sure to take a spin through our 
new car inventory
 and also take a look at our 
certified pre-owned cars
. 
 If you have any questions, please
contact our Pinckney, MI dealership
 today!

Towing Service by Pinckney Chrysler Dodge Jeep Ram
Pinckney Chrysler Dodge Jeep RAM towing is a local roadside assistance and towing services network of tow truck drivers that have been gathered into the fastest growing network of 24/7 roadside assistance rescuers / first responders! Pinckney Chrysler started its operation in 2009 with only one tow truck in the Pinckney area and has grown rapidly to operate throughout Livingston, Washtenaw, and Ingham counties.
Whether you own a small scooter or a 3/4 ton truck, Pinckney Chrysler can tow your vehicle. Pinckney Chrysler Dodge Jeep Ram offers light duty towing services. In any weather condition, 24 hours a day, 7 days a week, 365 days a year! Each tow truck in our fleet is fully licensed and insured to provide you with a quality and safe towing service experience. We make sure that all tow trucks and towing equipment are well maintained to assure your safety and to give you that peace of mind when getting a tow. Our tow truck drivers have extensive experience in all towing situations. We strive to perfect our service level and quality, by constantly improving our drivers' knowledge and professionalism.
Our tow truck drivers know all the solutions to those annoying problems that can land you stranded, so relax - we'll fix the problem! You left your lights on and your car batter has died? - No worries. Your truck runs on diesel? Not an issue. You just don't feel comfortable changing your tire on the side of the freeway? We understand.
Our drivers are fully trained to solve your roadside assistance problem in no time, and carry the equipment they'll need to get your vehicle running again. Don't go through the hassle of a tow to the auto shop - we come to you, and assist your emergency quickly, safely, and professionally. All of our drivers are fully licensed and insured, so call one of our agents and get moving again now!
If you're in a rush, or you're just having "one of those days", don't feel bad when you realize those car keys you're missing are stuck in the ignition and you are locked outside your car. Auto lockout happens to everyone, and Pinckney Chrysler Towing is prepared to get you out of your bind. In just minutes, a professional and careful tow truck driver will safely unlock your car and extract your locked keys from inside with no damage to your vehicle.
Whether your vehicle's locks are automatic or manual, we'll get your car open so you can continue your day. Little mistakes like auto lockout happen to everyone, so next time this happens to you and you need your car unlocked, just call Pinckney Chrysler Towing - you'll be back in your ride in no time!
Whether your fuel gauge is off, or you were just running on fumes trying to get to the closest service station, running out of gas is an inconvenience to anyone's day. Luckily, Pinckney Chrysler Towing drivers are equipped with fuel containers and will get to the scene with the type of gasoline you need. Your vehicle runs on diesel? No problem - we provide that too.
The 2-3 gallons our tow driver will bring you will be plenty for you to get your vehicle to a station where you can fill up. Once the driver will get to you with your fuel delivery, you'll be back on the road in minutes. If your car slows to a stop because your tank is empty, Call 734-878-3154 and we'll get that much needed fuel delivery to you!
Tires aren't meant to last forever, and unless you're extra prepared and change them out beforehand, you're likely to experience a blow out while in the middle of your day and then needing a flat tire change. Sometimes brand new tires will go out because of an obstacle on the road! Don't worry though, with a decent spare, lug wrench, and a jack, you can most likely change a flat tire and get back on the road, but if you're unprepared, or just not comfortable working on the side of the road, Tow Squad can be there in no time and perform a flat tire change service by replacing your flat tire with your spare.
Winch out services are mainly used to pull vehicles from roadside areas that are not easily accessible. Whether you are stuck in the mud, sand, snow, or in any other inoperable substance there are a few key factors that you will need to know before ordering a winching service. When calling our office please have a clear picture of the situation. You must be able to let the agent know how far away your vehicle is from solid land or the nearest accessible road. This is so the tow driver knows what equipment to bring as each situation is very different and will require special winching equipment. There is no set rate for a winch out service, prices will vary. Call 734-878-3154 today and we'll get you back on the road!
Is someone blocking your driveway? Is someone parking at your business without permission? Does that pesky neighbor who's always partying have their guests parked in your yard again? Is your residence at risk because of that illegally parked vehicle in the fire lane? We'll gladly tow it away for you. As long as you are authorized to make decisions for a parking spot, Pinckney Chrysler Towing will work with you to remove any unwanted vehicles from the private property, all at no charge to you. If a stranger's car is in the way, we'll get rid of it today.
Call 734-878-3154.